October 23, 2020 | 7 Min Read
---
Ironically, in this era of social media where we can remain connected more than ever, building and maintaining a customer relationship can be daunting! The everyday competition between brands to gain attention is intense and it can be very overwhelming from a customer's perspective. Therefore, the key to engaging with your customers meaningfully is through a more insightful, purposeful, and relevant approach.
Customer Lifecycle Marketing defines a way to interact with customers during the entire journey of their connection with your brand. It helps set clear engagement and other goals to achieve within the customer lifecycle, taking into account the marketing realities.
Importance of Lifecycle Marketing for Insurance Brands
Lifecycle Marketing's most fundamental element is paying attention to every little detail of your customer's journey every single day of your marketing activity. To be customer-centric is to deeply 'care' about your customers-a quintessence quality of insurance itself. Using Lifecycle Marketing strategies, exude every interaction with that 'care' throughout the life of your customer relationship. The insurance business can stimulate a remarkable benefit from this form of marketing which is not just about successfully acquiring loyal customers but also retaining, reselling, and thrilling existing ones.
Benefits of Lifecycle Marketing for Insurance Brands
Increased ROI
Customer loyalty and increased lifetime value
Growth in revenue with referrals
Maintain insurance brand identity and enhance it further
Turn customer service into a growth center
Depending on what stage of the customer lifecycle journey you are working at, marketing strategies can evolve and adapt to address the specific needs of that stage.
1. Reach
As an Insurance Marketer, you certainly reach out to your potential customers through various channels and platforms such as Website Social Media MarketingInfluencer MarketingStatic and Digital Display AdsRadio AdsPrint Ads, and more.
But did you really reach out to your customers effectively? Only one way to find out -the customer reaches back to you through any of these channels or platforms seeking help or advice. Thus, it is advisable to develop simple, relevant advertisements with rich content to gain the desired attention of potential customers. This can prove to be the deciding factor for the customer to embark on the 'customer journey' with your brand.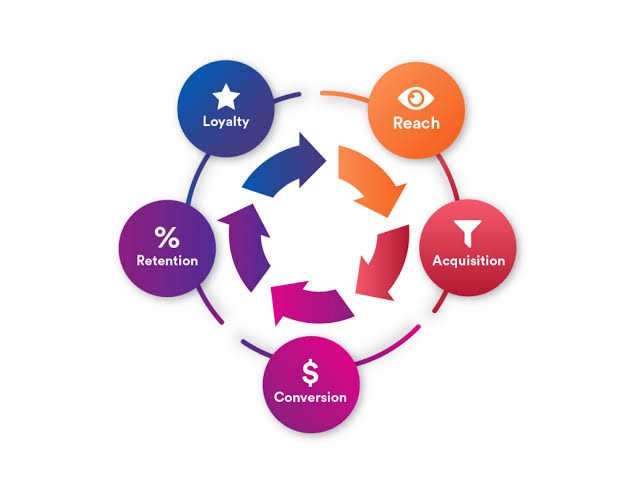 2. Acquisition/ Engagement
Once the customer walks in that first door, reaching out to you seeking help and attention, it is on you and your team to explain and educate the client about the insurance product they are looking for and position how this 'fits' into their lives. Being transparent about the policies, terms, and conditions will develop a trust factor between the customer and your brand. Now is the time to demonstrate to them what sets you apart from other insurance companies in the market. You may keep them engaged by including the following on your landing page:
List of benefits for choosing your insurance brand
List the convenient ways a client can reach you like round the clock ChatBot service or your Social Media pages.
Use of email marketing to send specific content such as a 1-month FREE premium offer or Free Consultation for your Financial planning to bring the customers to your website or App.
Include compelling content like blogs and current affairs related to Finance and Insurance industry.
Install clear Call-to-action buttons like 'Get a quote' or 'Get in touch'
Having some common FAQs listed would help potential customers prefer your brand.
3. Conversion
Today's customers are tech-savvy and are likely to have done their research regarding the reliability of your products. Ensure that there are no gaps or loopholes in the information provided on the website or other owned assets. At the same time, do not try to push the customer into taking decisions. Place tooltips at different 'nerve' points of the purchase journey. This will help reassure your customer. instead help them with the purchase throughout the journey by providing them with easy to use,
Mobile friendly purchase and payment journey
Information about loyalty bonuses
Benefits such as waiver of excess or others.
4. Retention

As soon as the purchase is complete, it is time to focus on retaining the client for a long-time. Insurance products, by nature, are extended pledges. But that does not mean the client will not move to a competitor for buying their insurance products. To ensure ongoing engagement, you should be actively involved. Create a calendar of activities for a year. Every month plan out a set of 'comms' that you plan to establish with your customer using different mediums-email, SMS, and telephone.
Some of these comms can include
Personalized safety and risk protection info relevant to their product purchase,
Information and updates about promotions and special offers on other products in the form of newsletters or self-help blogs,
Send a birthday e-card,
Arrange a follow-up meeting every 6 months to check if the client is happy with the policy and his/her current financial status,
Give free financial tips or advice for their benefit.
5. Loyalty
Once the lead is converted into a customer, it is time to turn them into loyal customers. The goal is to make them the advocates of your company through word of mouth and bring in potential leads and customers.
The following could be helpful;

Get customer testimonials or have them share their purchase journey on their social media.
Additionally, you can create a customer loyalty program by providing benefits to customers who bring in leads that convert into clients such as running a Referral Campaign.
Today's insurance customer has more information and options than ever. Hence, insurance marketing must contextualize customer behaviors and provide value over just product sales and benefits. Using Lifecycle Marketing as one of the methods, investing in loyal customers can yield up to 70% more value than a new customer.
Get in touch with FWD if your insurance brand or function wants to build an effective and relevant Lifecycle Marketing plan.
---