June 7, 2021 | 3 Min Read
---
Here's how you can use Instagram Reel Insights to make better reels for your insurance brand!
From discovering how to track the success of your Reels to how to use these insights to create content that your audience will enjoy, a recent Instagram update saw the launch of Reels Insights, which brands and creators have been asking for.
Reels have become an essential part of Instagram's ecosystem since their debut in 2019. They are now at the forefront of the app, easily accessible from the home page, account pages, and Explore page.
Instagram's efforts to promote Reels are bearing fruit. The format is being used by an increasing number of brands and influencers. However, as the buzz surrounding it grows (currently, there are 169,000 Google searches for the phrase "Instagram Reels" per month!), marketers have become understandably eager to measure their performance.
How to View Reel Insights
To view the performance of a specific Reel, open it from your profile, then tap the three-dot icon in the bottom right corner of the screen, then tap Insights.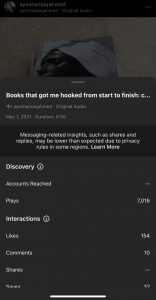 How to Make Better Reels Using Instagram Reels Analytics
Now that you know where to find Reels analytics and why you should track Reels performance, it's time to put your newfound knowledge to use.
Here are four suggestions for using Reels analytics to create better content:
Tip #1: Experiment with various reel styles.
To create good Reels, you must… watch a lot of Reels. You will have difficulty finding a style that works for your brand if you do not have a sense of what is popular.
But what if what you like isn't shared by your target audience?
Testing is the key to discovering the best visual styles, filters, effects, and trends for your brand.
With the two new engagement metrics, you'll have a better idea of how many users enjoyed your content (enough to save it for later or share with friends). When you post a Reel that receives a high number of likes, comments, saves, and shares, you know something is working!
Tip #2: Experiment with different reel lengths.
Instagram currently allows all users to create 15 and 30 second Reels, with select accounts allowed to create 1-minute Reels.
Similar to experimenting with different trends and effects, you might want to experiment with different reel lengths to see what your audience responds to best.
Tip #3: Experiment with various audio options.
Instagram provides numerous options for adding audio to Reels. You can do the following:
Use the audio from your video clip's original.
Include a voiceover in your video.
Make use of a text-to-speech generator.
Use a previously saved audio track, such as a song or a viral snippet.
Tip #4: Experiment with different posting times and days.
This is a significant one. Enhanced Reels analytics can assist you in determining the best day of the week and time of day to post your Reels for the greatest reach and engagement.
The idea is simple: experiment with different posting times and closely monitor your results to determine which time works best for you and your audience.
That way, you'll never "waste" a great Reel by posting it when your target audience isn't available!
---